Anyone who has visited Glenshesk will know the unique and beautiful place that it is. Many legends, myths and stories have passed from generation to generation, who have grown up in this mystic place.
Doonfin – Finn MacCoul slays his faithful dog Bran:
"On the hill, Finn MacCoul and some of his friends were watching his dog Bran in a chase, and as the Dog was returning Finn fancied that he had become mad and to protect themselves from his well-known ferocity, Finn shot an arrow which killed the animal. Finn never had the same keen enjoyment for hunting after this occurrence, and composed several ballads on the death of his favourite dog which are now forgotten". (M'Cahan Local Histories)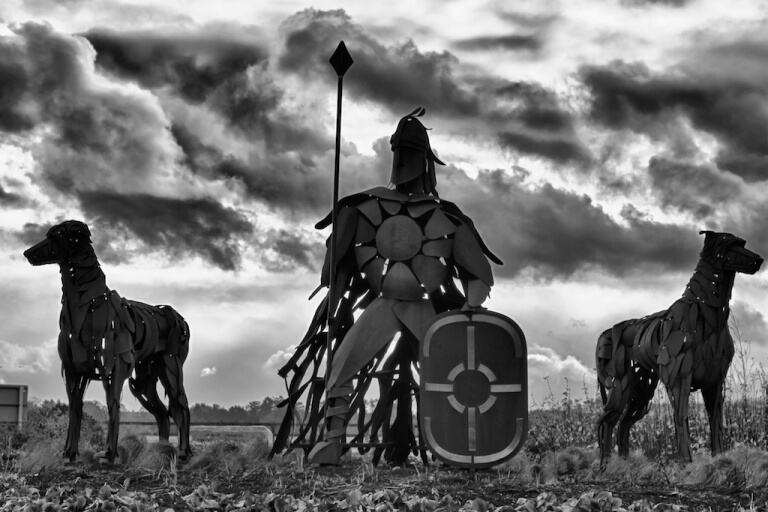 Finn McCoul and The Dog Bran:
By James Stoddard Moore
(Dusty Rhodes)
As Finn MacCoul went hunting
One Summer's afternoon
In dark Glenshesk's deep valley,
Beneath the silvery moon,
His good dog Bran before the rest
Fast on the red deer came,
The bravest dog that ever ran,
A hound of ancient fame.
He soon overtook the flying deer,
And pulled the quarry down,
Slaying another of the herd,
To add to his renown,
Returning to his master,
He soon appeared in view,
His gory jaws were open wide,
From which the foam flecks flew.
Now, Finn MacCoul was sore afraid,
When thus the dog he saw
Fast bounding to his master's side,
Blood dripping from it's jaw.
He placed an arrow in the bow,
And fast the string he drew,
And by a true and well-aimed shaft
His faithful hound he slew
Now Finn was wild because he slew
His faithful greyhound so,
Through when the dog appeared in view
His fate he did not know.
And from that day brave Finn became
A sad and altered man,
Still crying, "A mauvroun, I've slain
My faithful servant Bran."
Henry's Step:
Just above Glenshesk Bridge is a famous small waterfall called Henry's Step. This local landmark has over the last 100 years become a popular subject for photographers, although the "Step" has worn down over the years, but is still very impressive during a flood. Do take care if visiting it.
It is said to have been given its name from a boy called Henry's who was taking a short-cut to the Glen School, and slipped on the rocks and drowned. However, another document dated to 1936 by Charlie McAfee suggested that it was a man called John Henry who was being chased by the Revenue Man, as he had a keg of Poteen. The river was in flood and Henry's step's over the waterfall to escape them! Click the Link in Blue below to see a video of Henry's Step in flood.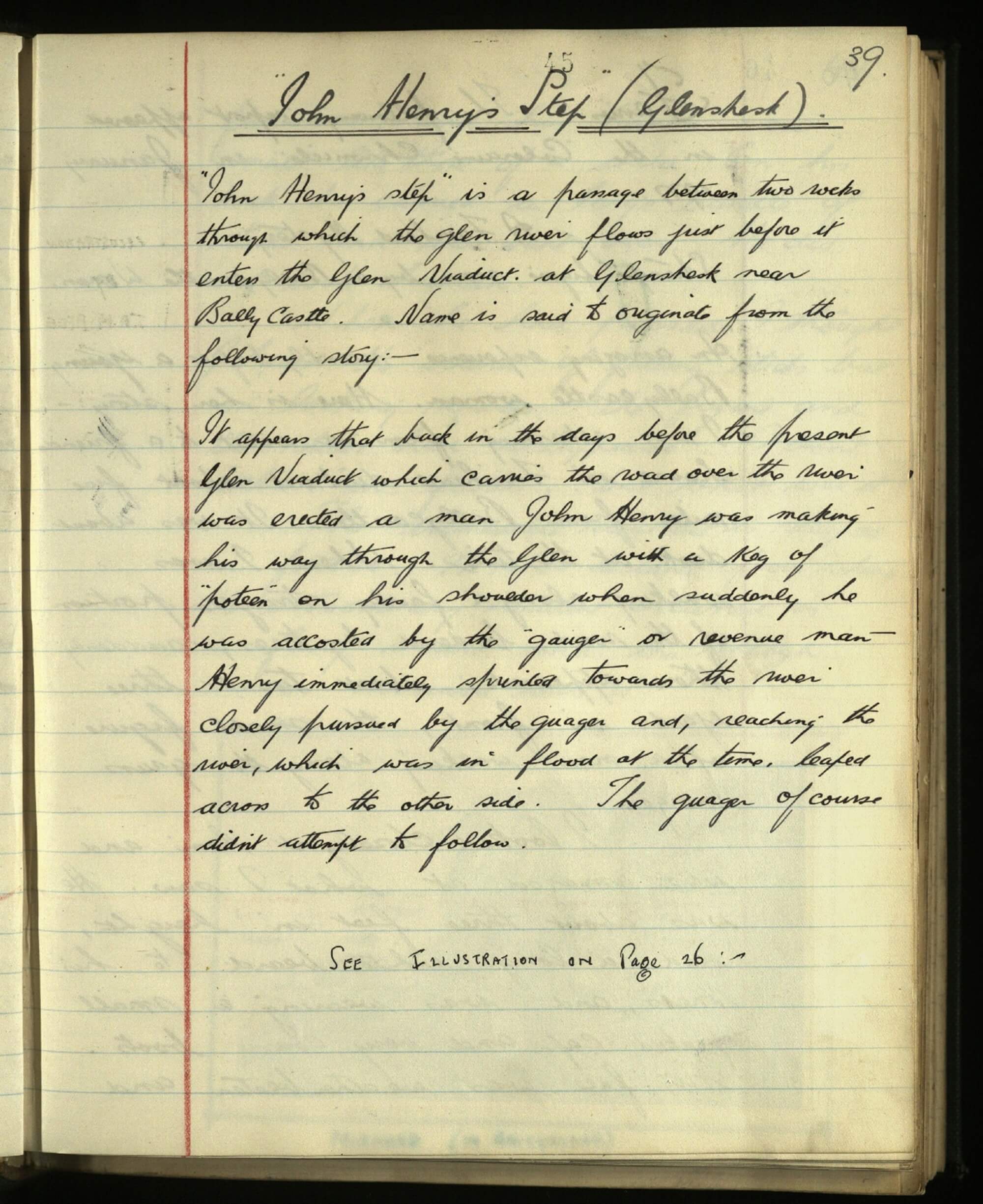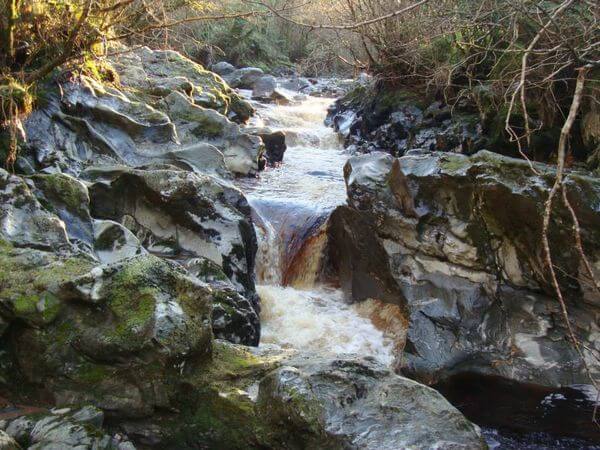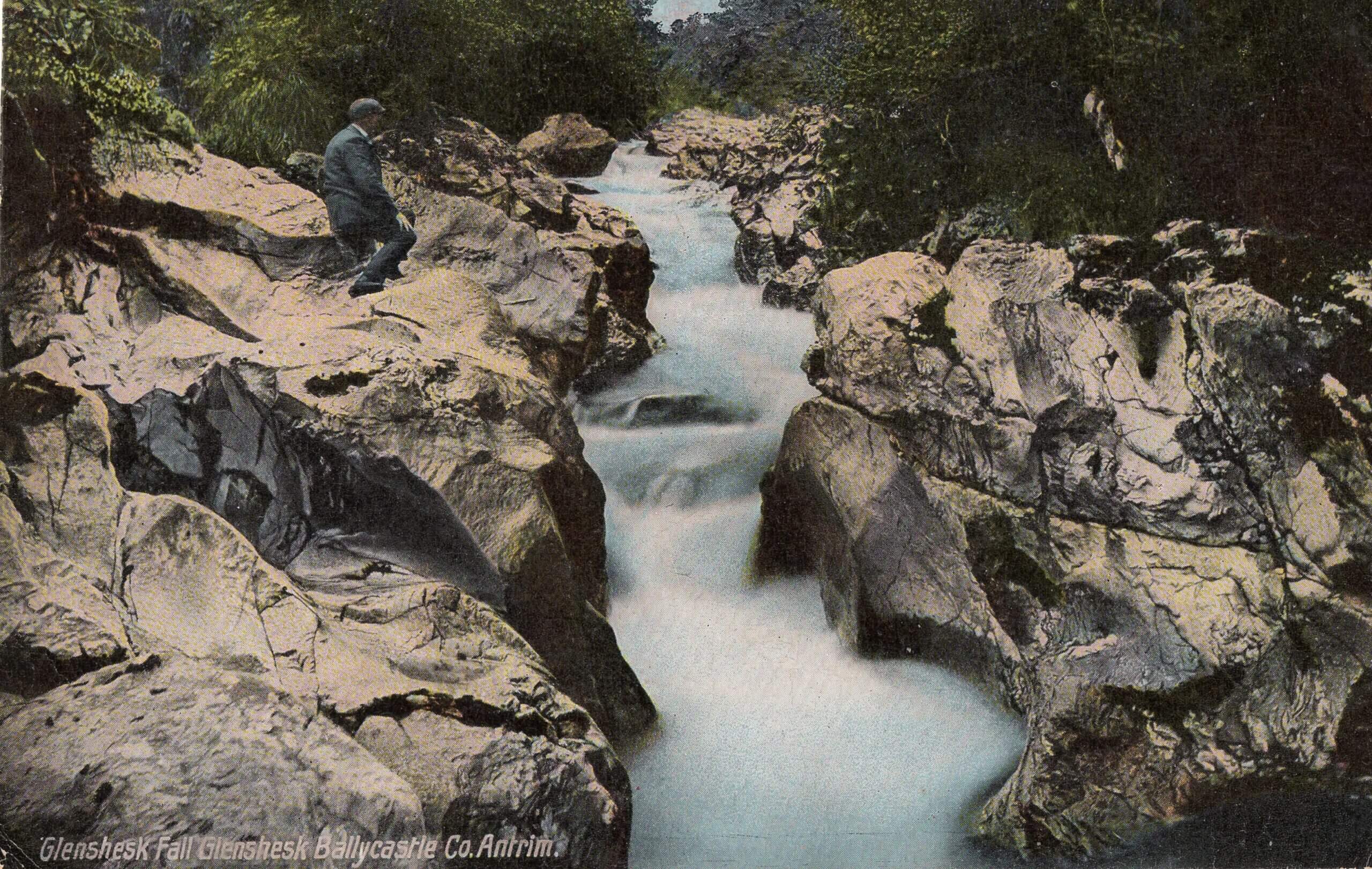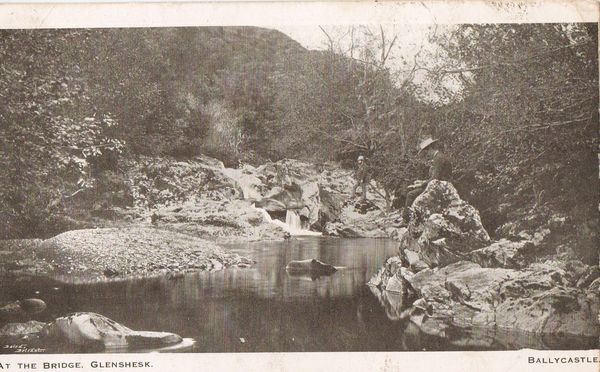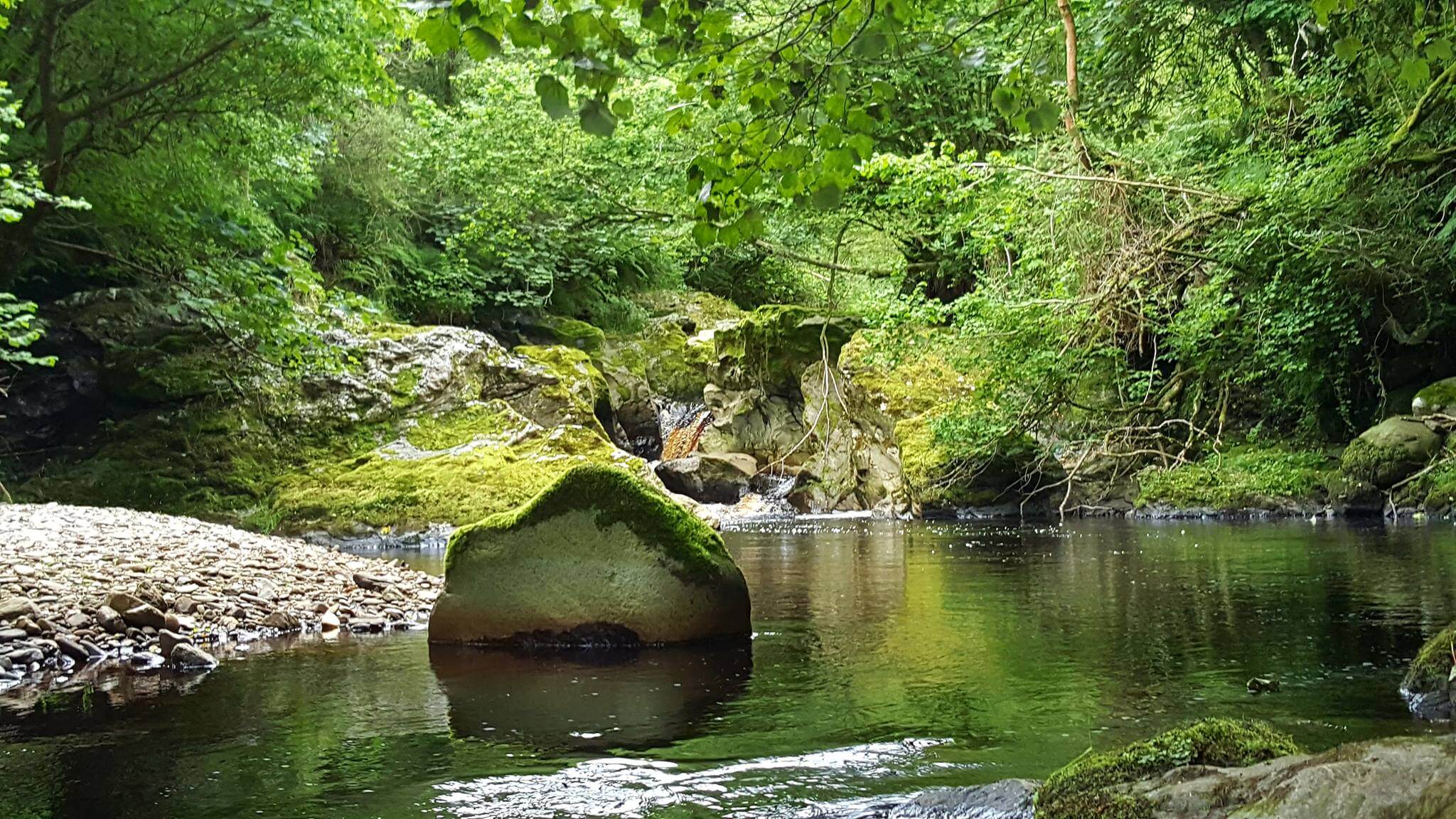 Fairy Trees.
Like many of the Glens, Glenshesk has its fair share of fairy (or faerie) trees, mainly hawthorn, including this stunning example in the townland of Drumacullin with a large stone underneath where you can take in the stunning view down the Glen to Rathlin Island.
In Ireland, it is believed fairy trees are the sacred grounds for the "sídhe", the people of the mounds. The tree is said to be the gateway or portal between the worlds of the mortals and the world of the faeries. The sídhe are known as the little people or the wee folk in Ireland, and most often portrayed as fairies. A fairy tree is usually a Hawthorn tree or an Ash tree. They stand alone in fields and are commonly found with large stones circling its base, most likely to protect it. This fairy tree pictured has a large stone which also serves as a seat to take in a magnificent view of the Glen and the sea. What's mysterious about these large stones is how they came to be at the tree, the landowners wouldn't dare disrupt the wee folk.
With fairy trees being regarded as sacred sites for the wee folk, there are many superstitions that surround them. As you've probably guessed, they involve magic and bad luck. Some believe if you damage or cut down one of these trees you'll be faced with a life of bad luck. It's certainly common for farmers to work around these trees, even when they can't grow crops where the tree stands. When travelling through Ireland you'll often see a perfectly cultivated field and in the middle, an untouched fairy tree. Evidence of a farmer unwilling to risk his luck!