The main school in Glenshesk was the Glenshesk National School which was originally built in 1834. It provided primary education for the local children until it closed in 1969. There were two other schools on the outskirts of the Glen, one at the Armoy side called Breen School, and the other, Ballyveely School beside Cool Brae, where Dan Darragh taught
Glen School – Life at the school.
As mentioned above, the Glenshesk National School opened in 1834 and was the main school for the Glen up until 1969. The building was simple in design with just one large classroom space, with the juniors of the school facing and being taught at one end of the large room, and the seniors facing and being taught at the other. At the back of the school, outside, was a long wall which divided the boys and girls, and had a toilet at each side.
The school was heated by two open fires at each end of the main classroom. At one time, each family who had children at the school were asked to provide a bag of turf for each term. As many of the children lived very close to the school, they were able to walk home at lunchtime, and in the early days as can be seen by the following photographs, many did not wear shoes.
Sadly, the school like many other country schools in N.Ireland was forced to close in the late 1960's, and this was a big blow to the local community. When the school finally closed in 1969, final class photographs were organised for the two class groupings, as well as one of past pupils.
In the 1970's for a period, the school was the base for a local youth club that met there, and it was also used for several events including a bric-and-brac sale. The school changed hands a number of times, and was threatened to be pulled down, but eventually and thankfully was purchased by The McCaughan Family, Ardeen, who lived just a few metres from the building. They have tastefully restored this important building in the glen, and have converted it into holiday accommodation for rent.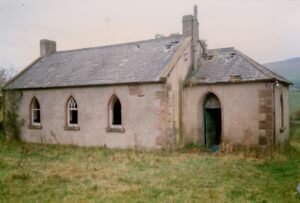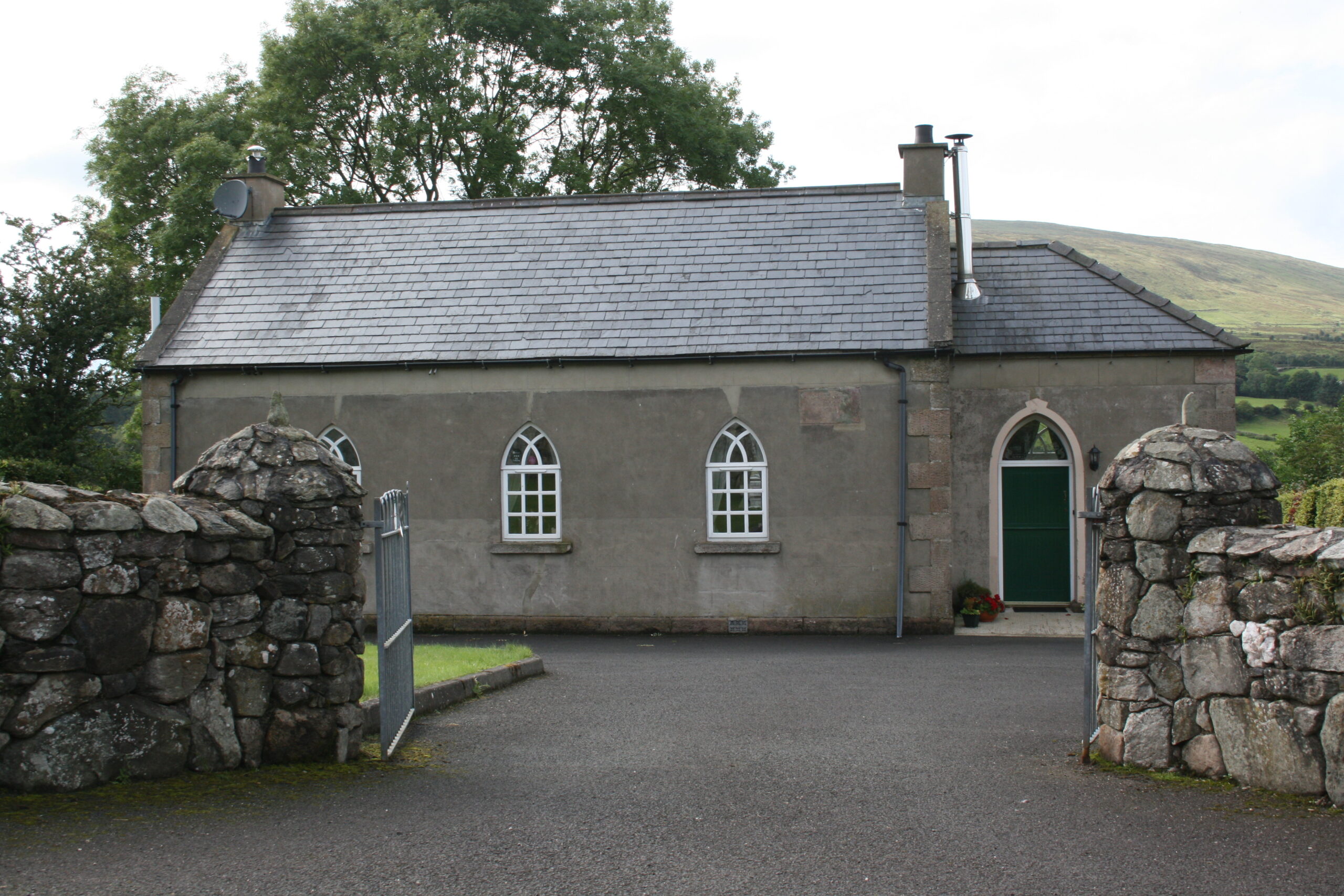 The junior class of Glenshesk National School. This was the last junior class at the school, and this photograph was taken just before the school closed.
Front Row: Jacqueline McLaughlin, Eugene McLaughlin, Jacqueline Brown, Mary McCarry.
Second Row: Sheila O'Neill, Pauline Kelly, Brenda McBride, Patricia McBride, Eilís McCaughan, Patricia McAuley, Rosemary McCambridge.
Third Row: May McDonnell? Liam McDonnell, Karol McCaughan, Joan McCaughan, Arthur Devlin, Sean Kelly, Cormac McCaughan.
Teacher Standing; Miss Angela McCaughan.
The senior class of Glenshesk National School. This was the last senior class at the school, and this photograph was taken just before the school closed.
Front Row: Bernadette McCambridge, Frankie McBride, Aidan McCaughan.
Second Row: Mary Devlin, Bernadette Kelly, Pauline McAuley.
Third Row: Angela McAuley, Mary McBride, Anne McBride, Fiona McCaughan, Brian McCaughan.
Fourth Row: Sean McCambridge, Francis McCaughan, Brendan McAuley, Kevin McCaughan, Pauline Devlin, Patsy Kelly, Patricia Devlin.
Teacher Standing: Miss Mary McAuley.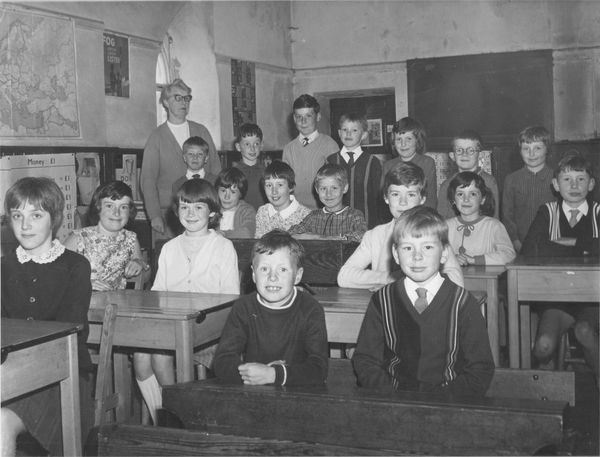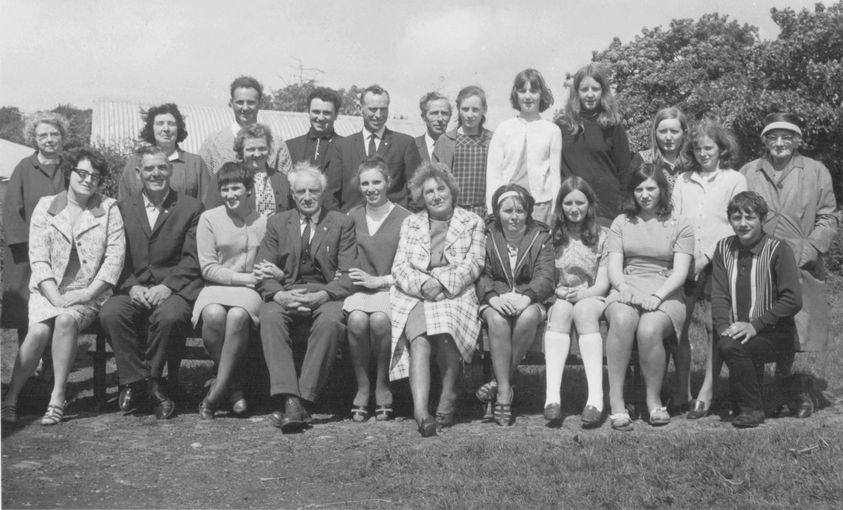 Former pupils of Glenshesk School, at the closing of the school, 1969
Last day of the Glenshesk National School, June 1969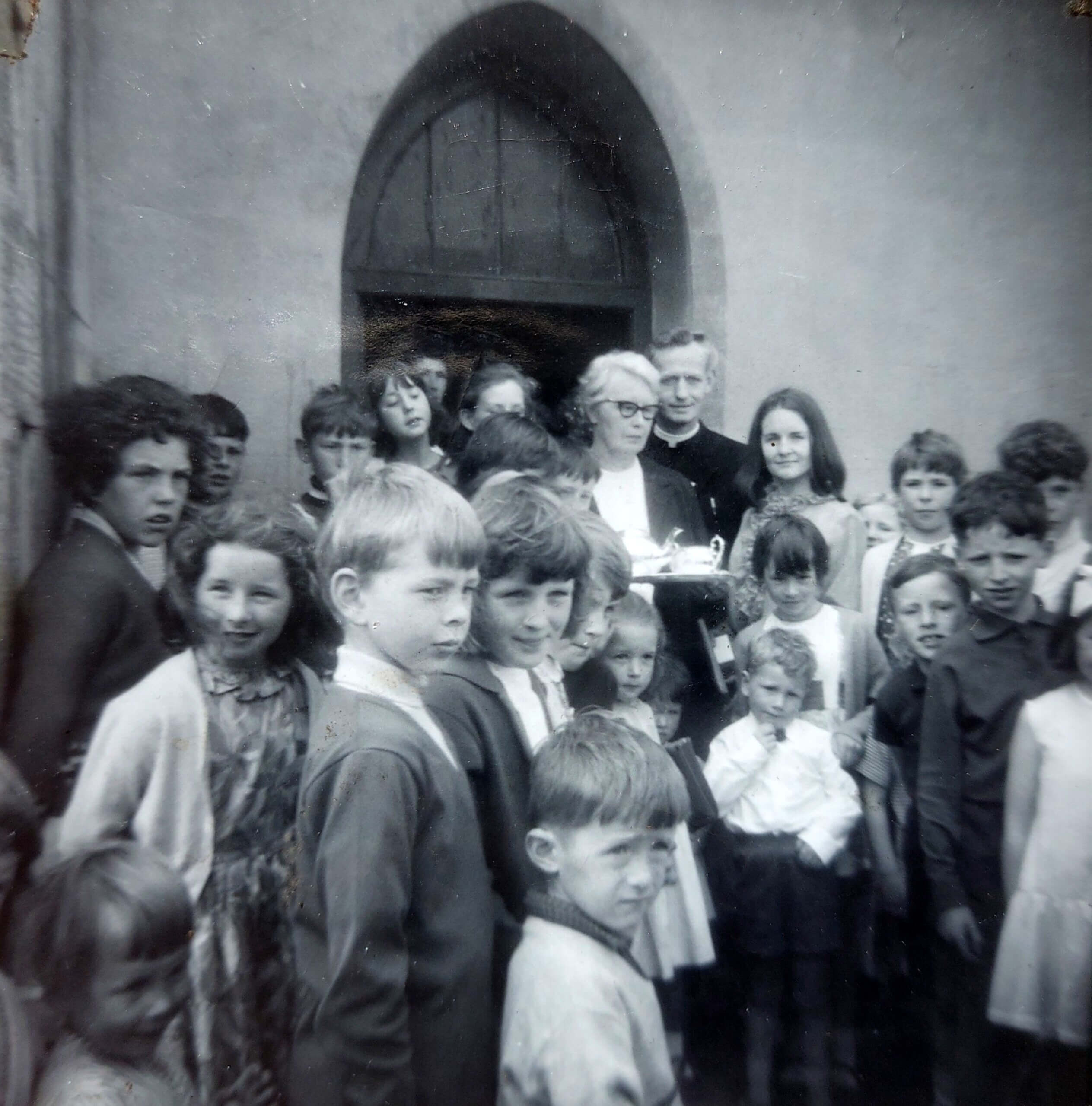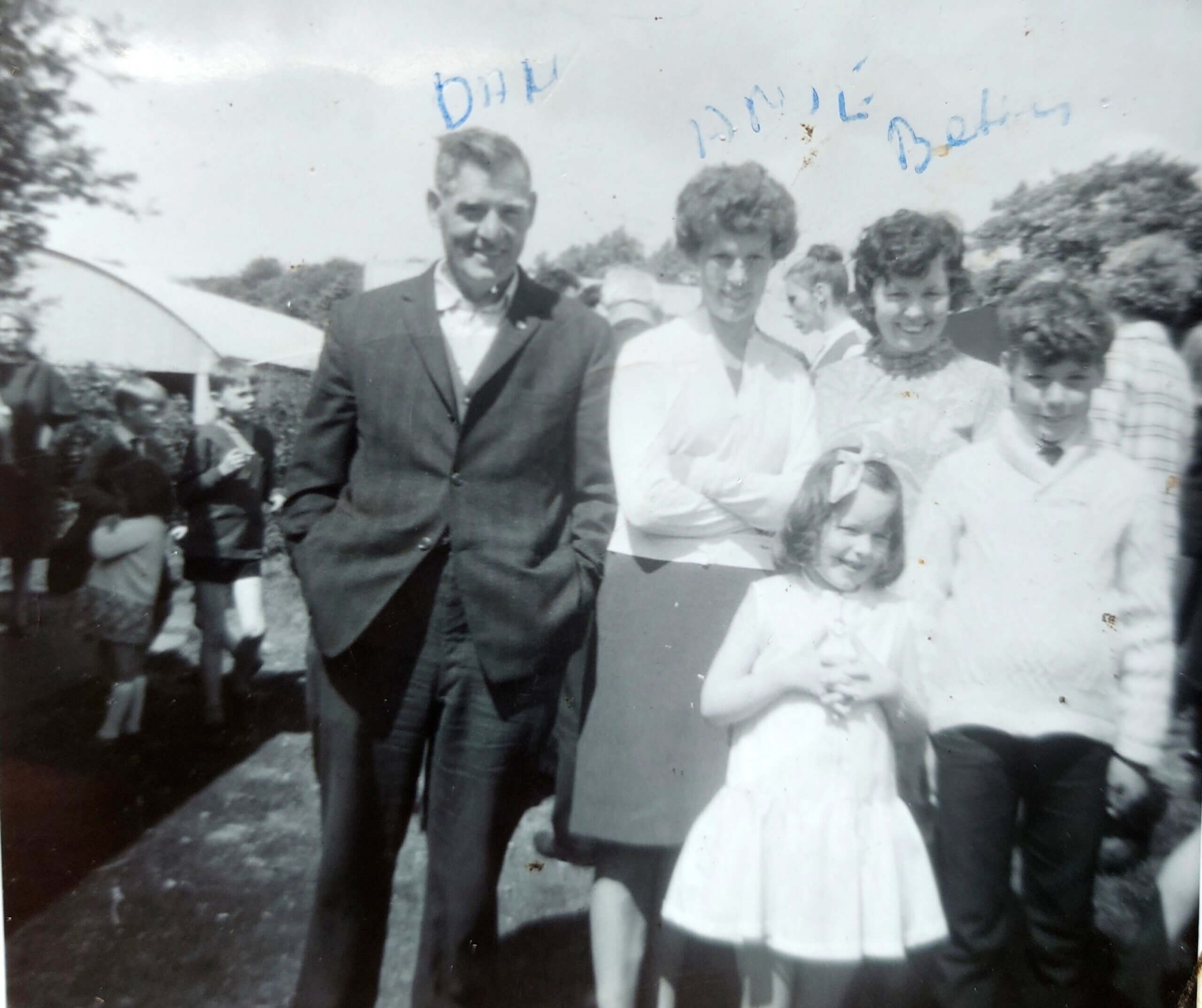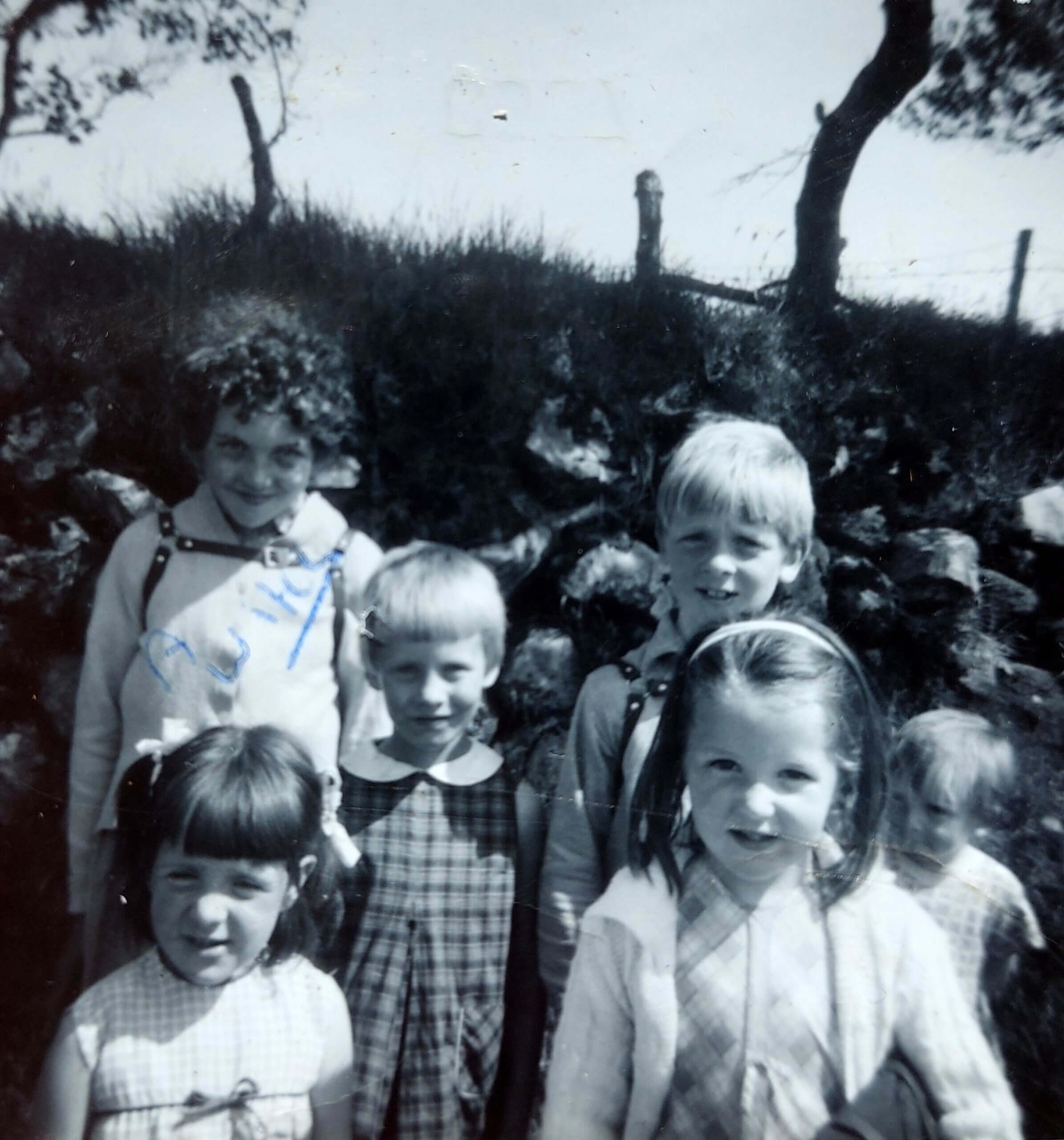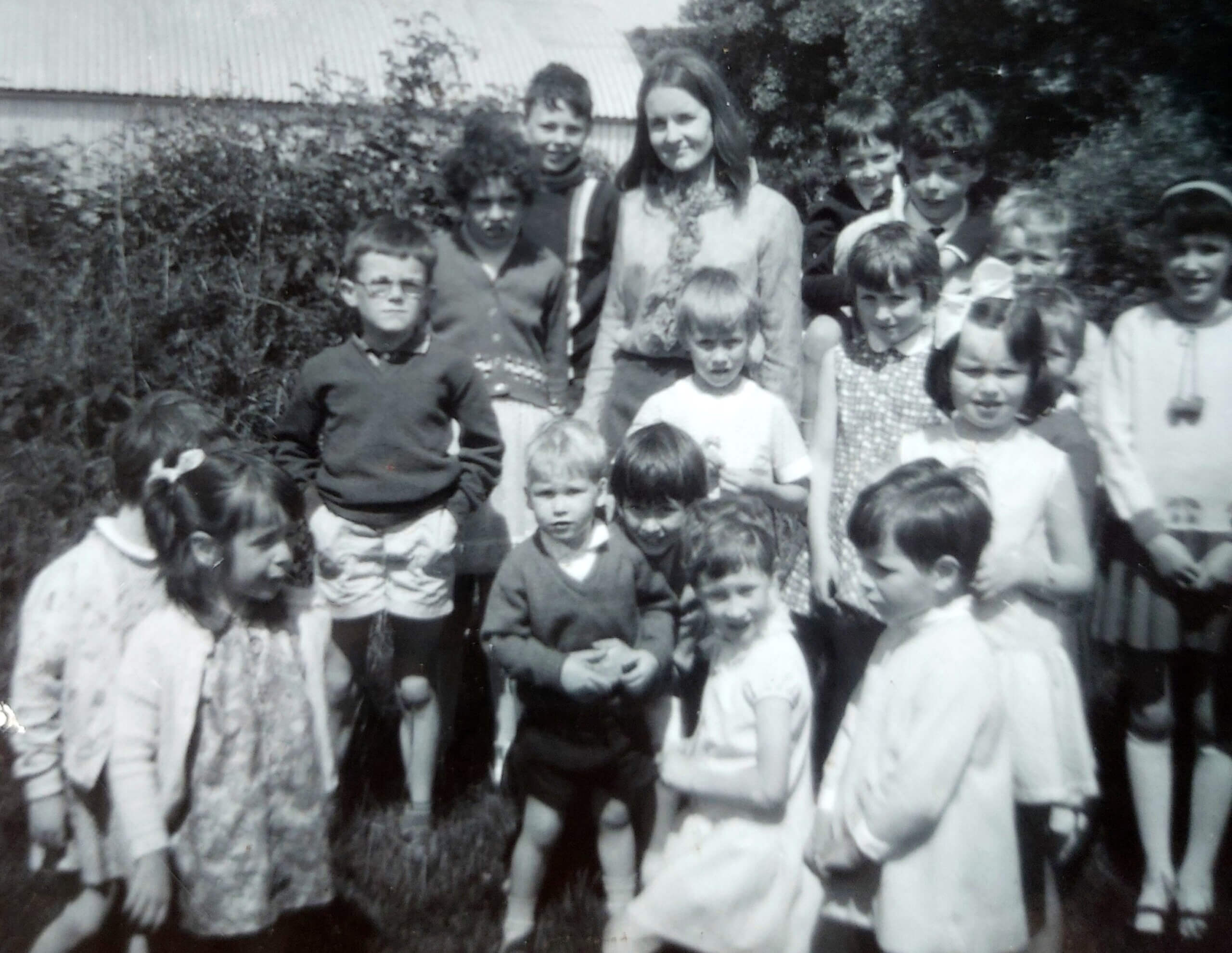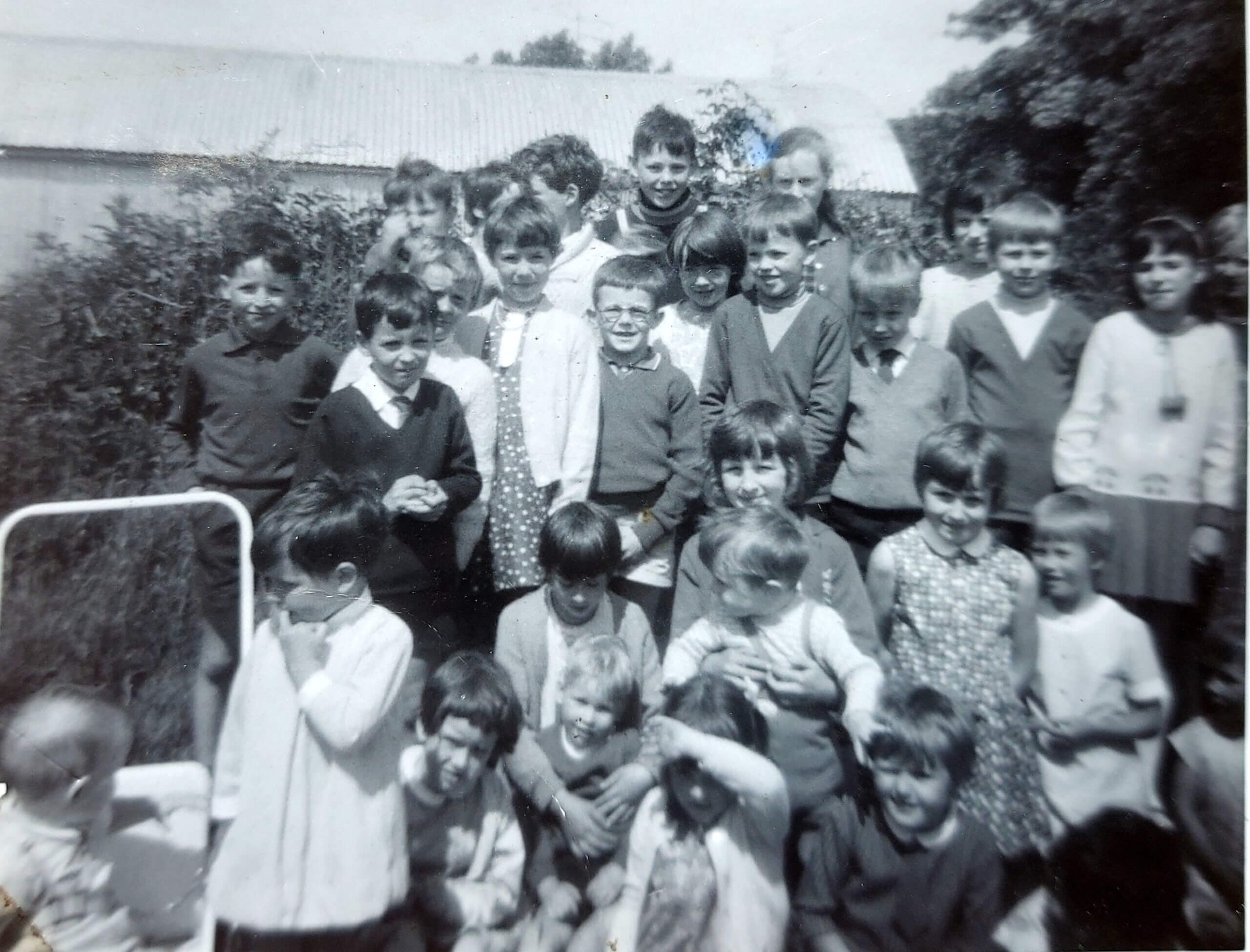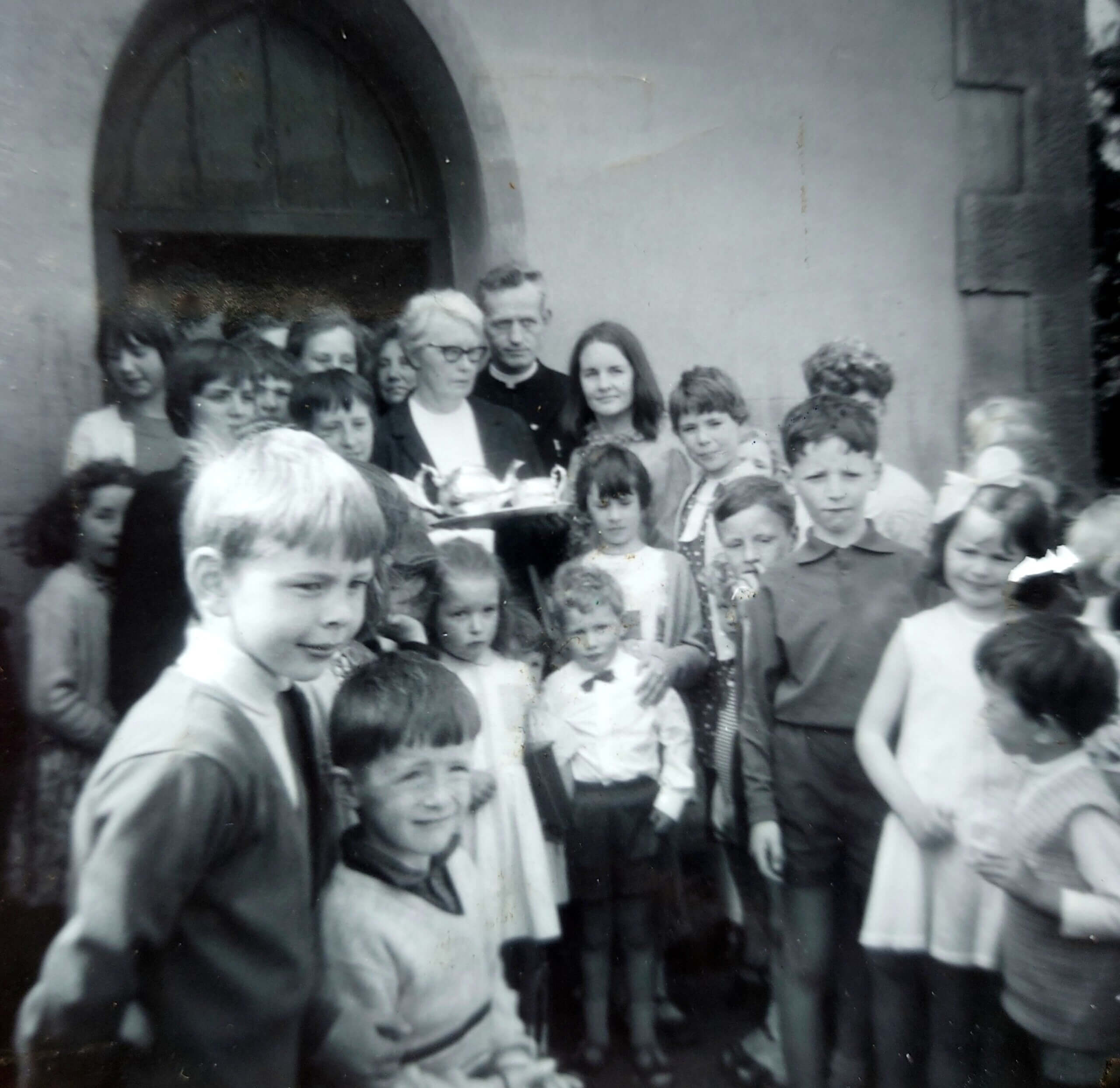 Children outside Glenshesk National School, 1969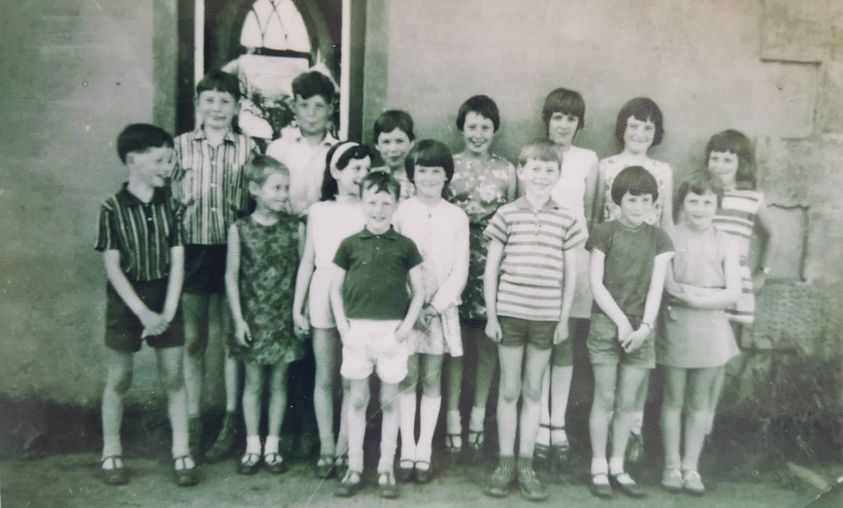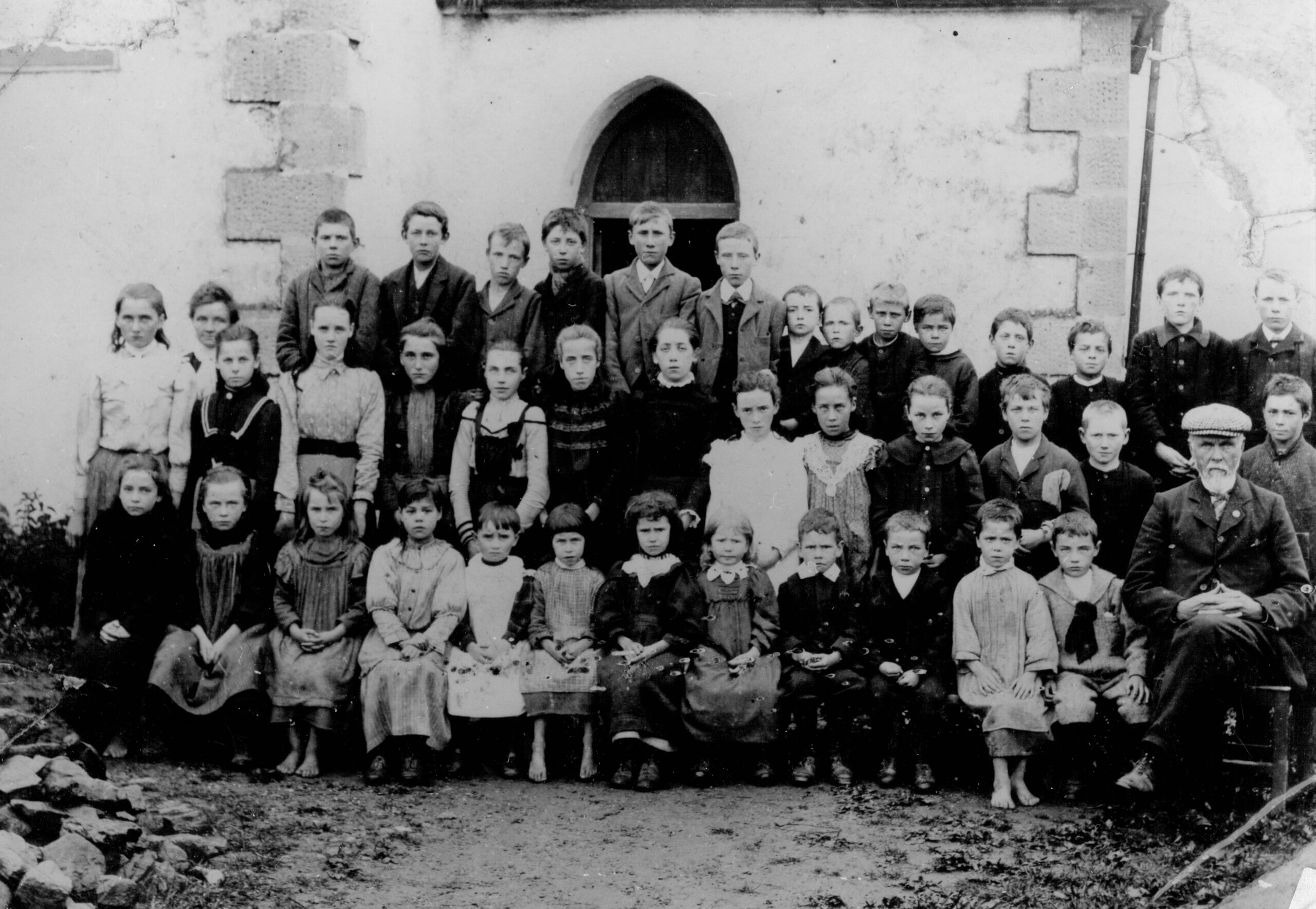 Glenshesk School, 1902-1905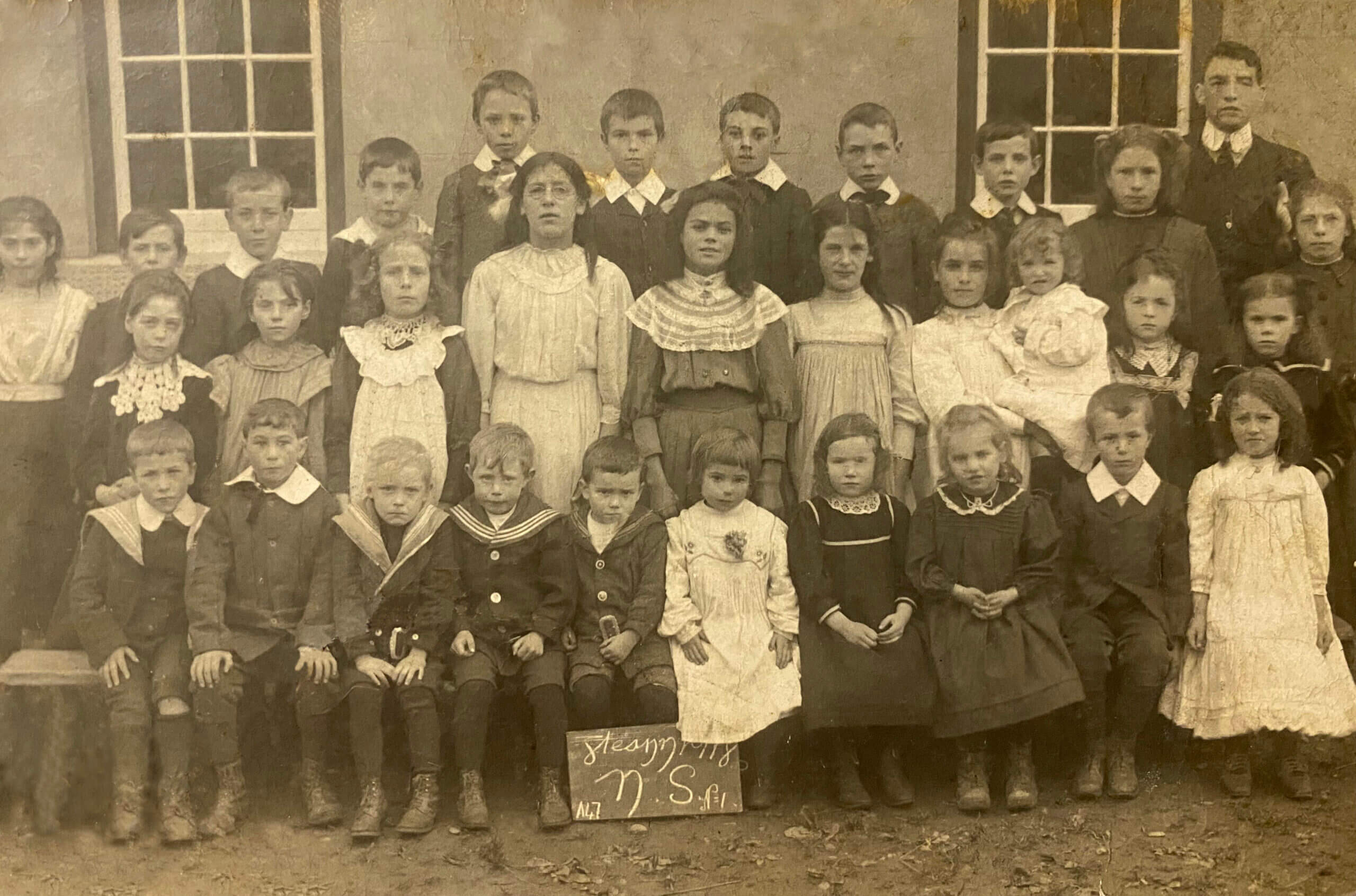 Glenshesk National School, 1918. Girl in white front row is Agnes Laverty from Greenans, Paddy Laverty's sister and Owen Mooneys Mother, the girl behind her with lace collar is Maggie Laverty, again Paddy's sister.
Late 1920's / early 1930's
Here is an interesting photograph taken at the "Glenshesk National School" taken sometime either in the late 1920's or early 1930's. The teacher is Master Kelly whose wife is also in the photograph. Beside Mrs Kelly is Alice Mc Bride, top right hand corner a Dobbin, Winnie Mc Bride (Mrs Bailey) third to the right of Mrs Kelly, Dan Mc Auley front row at the very left.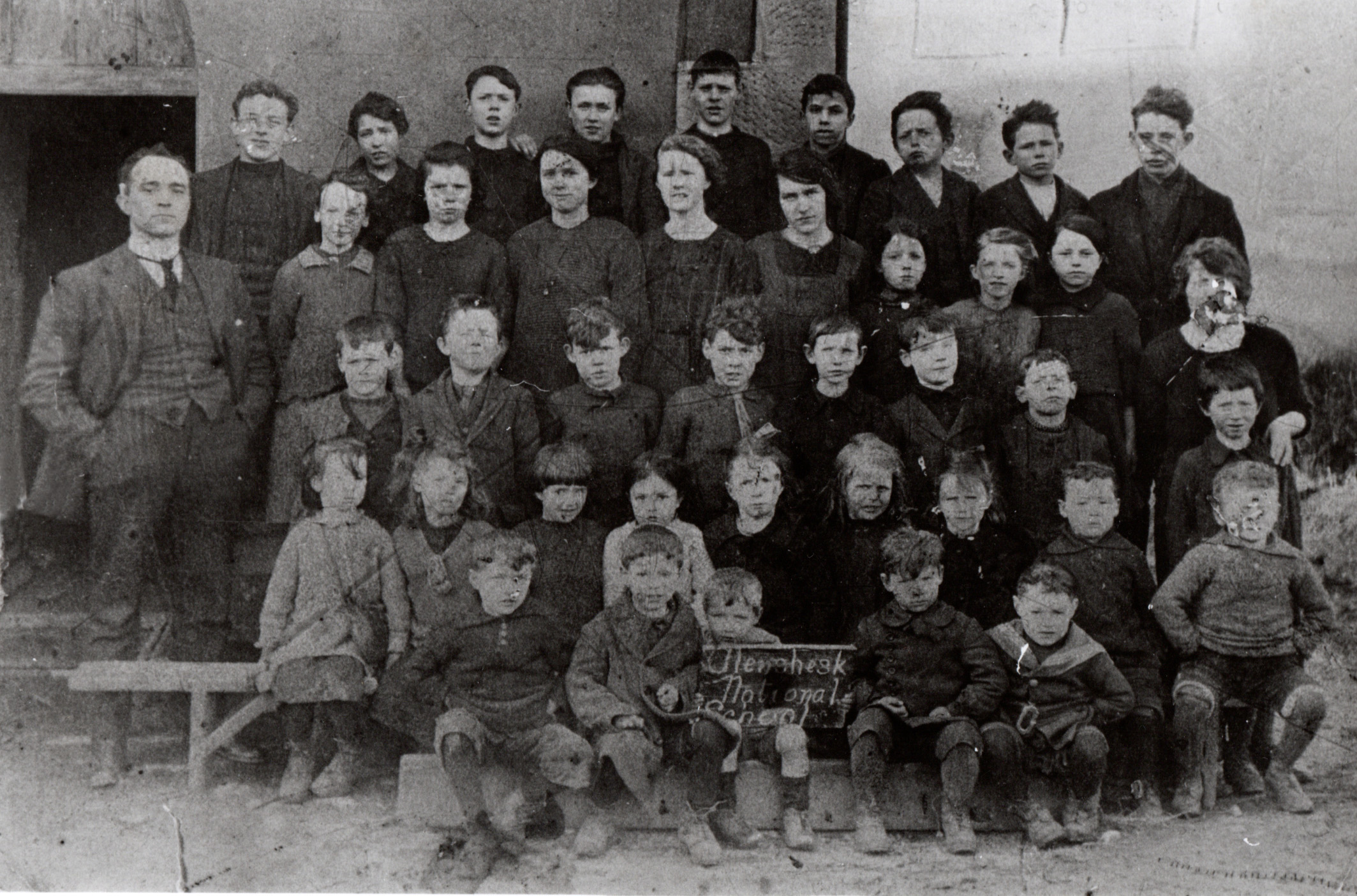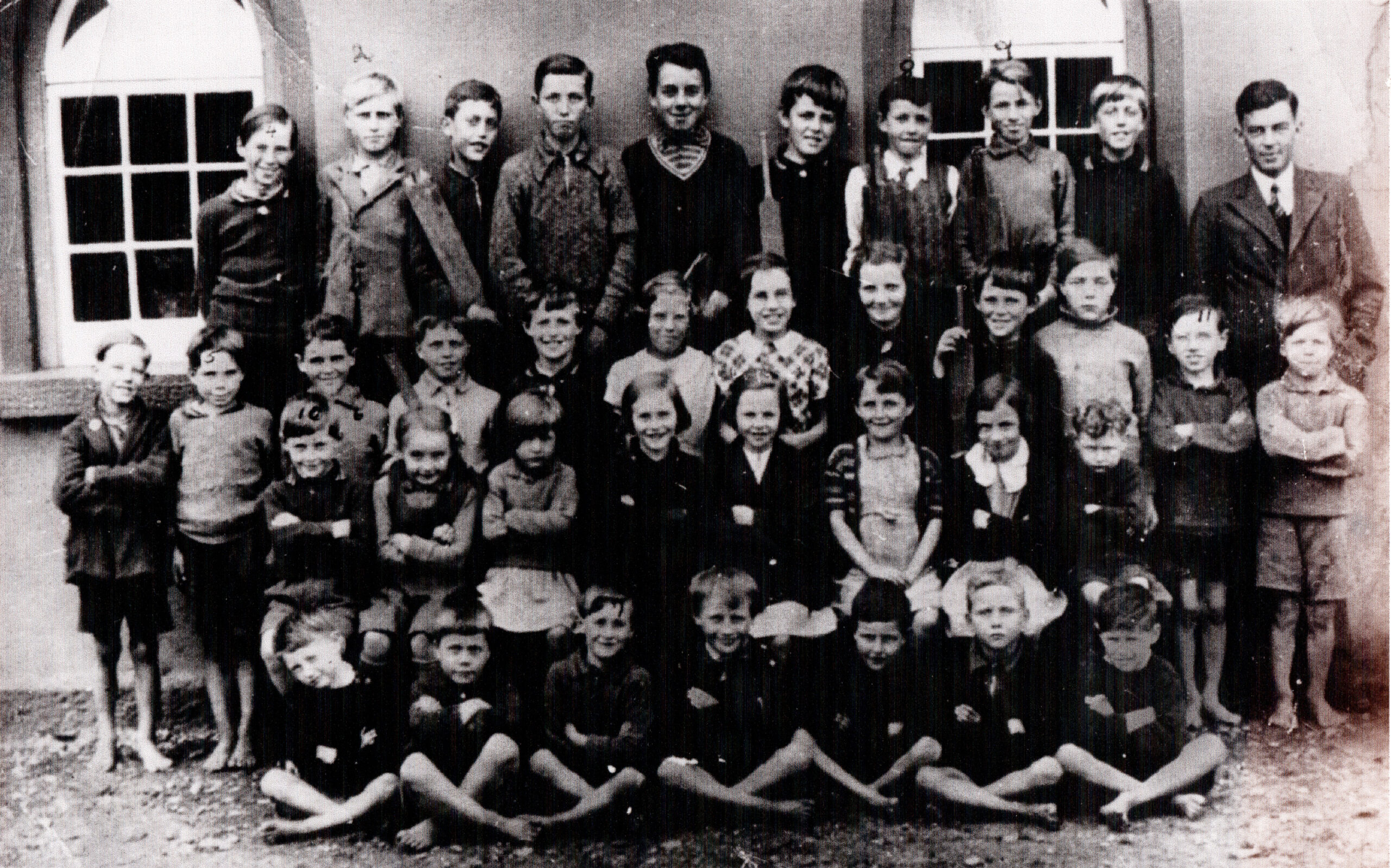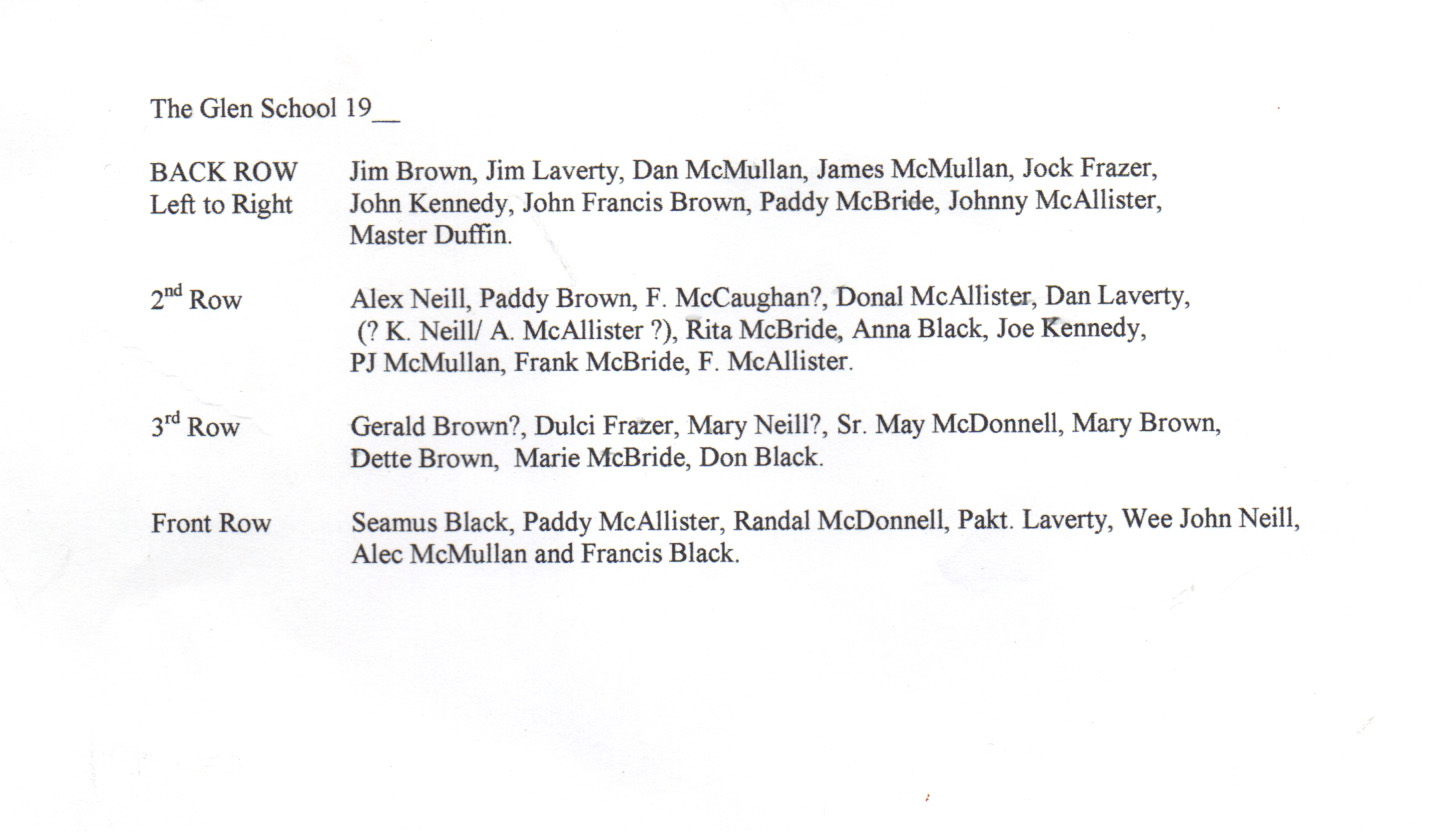 Glenshesk School, late 1920's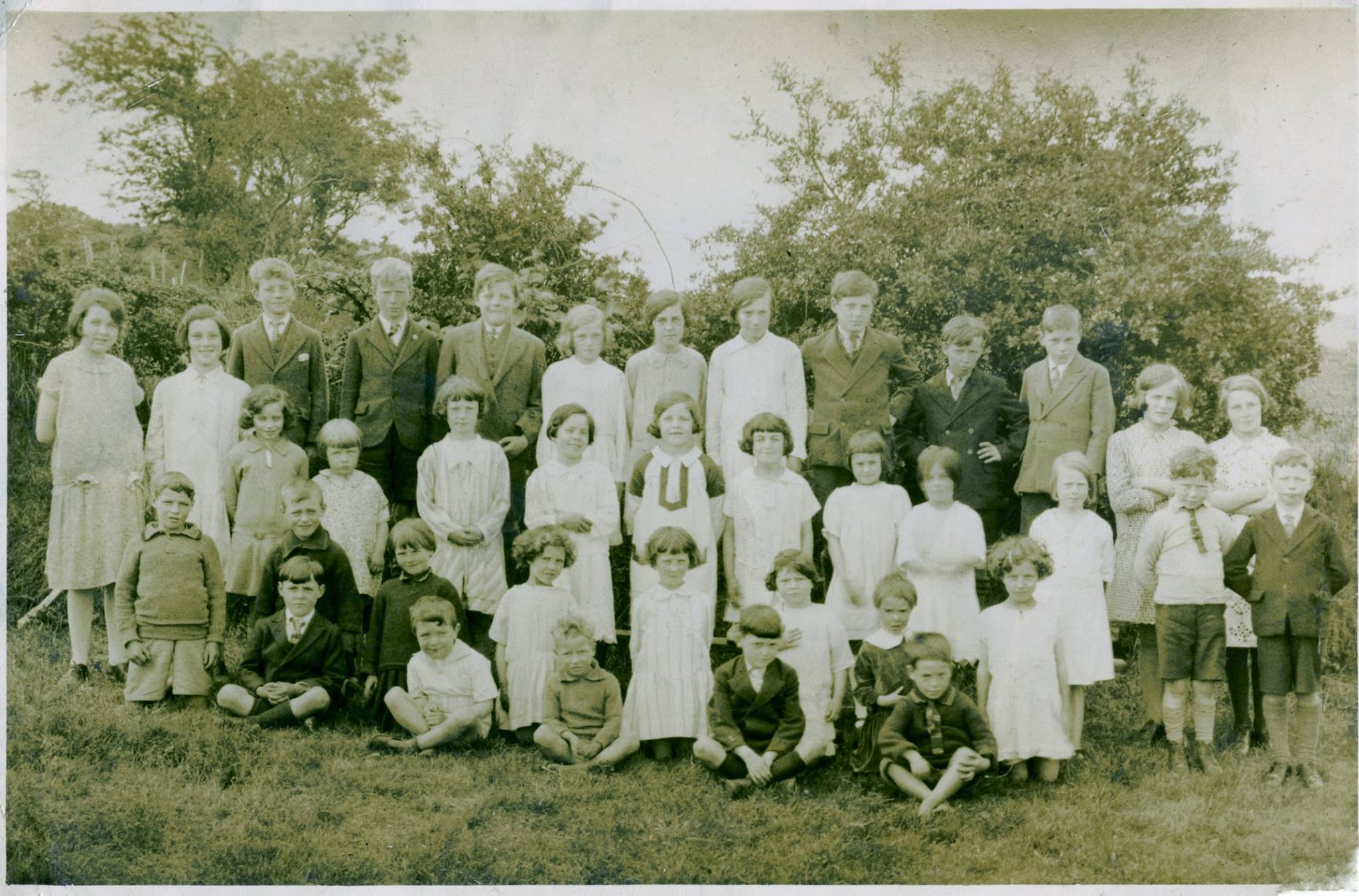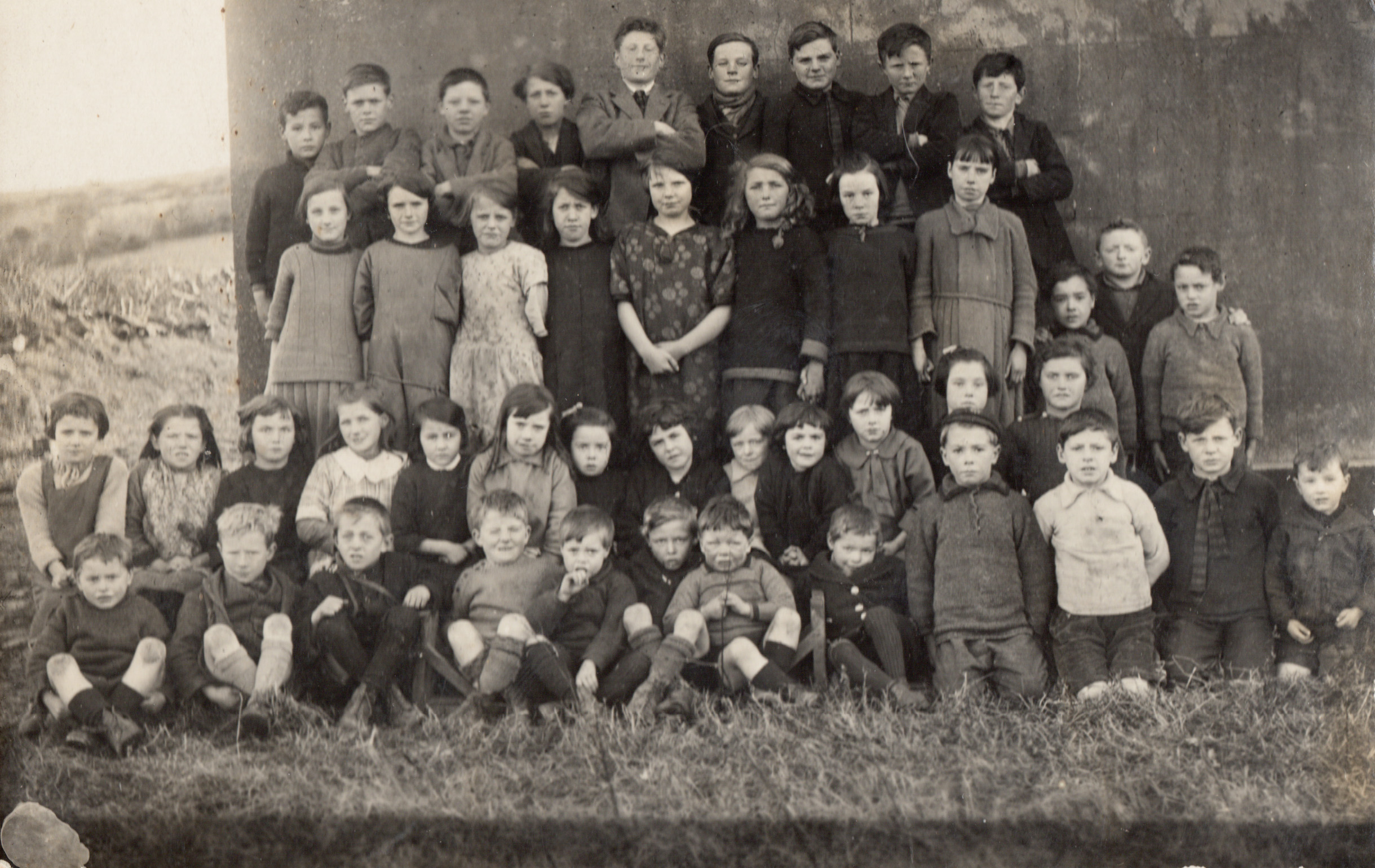 Glenshesk National School. Year, unknown

"The Glen was a pleasant place at all times, but never so pleasant as on such a night!" This is unique account in a newspaper clipping of a concert in the Glenshesk School, but can you work out what year or decade it's from? Lots of familiar Glen surnames. Possibly 1910+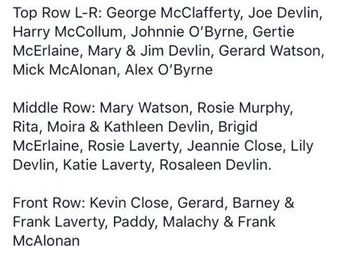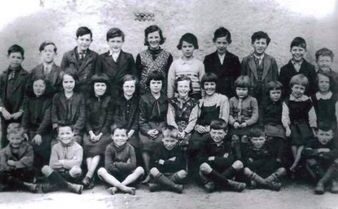 Ballyveely School, Glenshesk
In 1858 Daniel (Dan) Darragh, leader of the IRB (Irish Republican Brotherhood) taught in Ballyveely School, Glenshesk. Ballyveely School was beside Cool Brae. In some records it states that he established the school himself. He had a great fondness for this school and although he only stayed two years, he came back to the Glens many years later in seeking his objective of a free Ireland. He moved back from Glenshesk to become Principal in Ballycastle, after he passed his final teacher examination.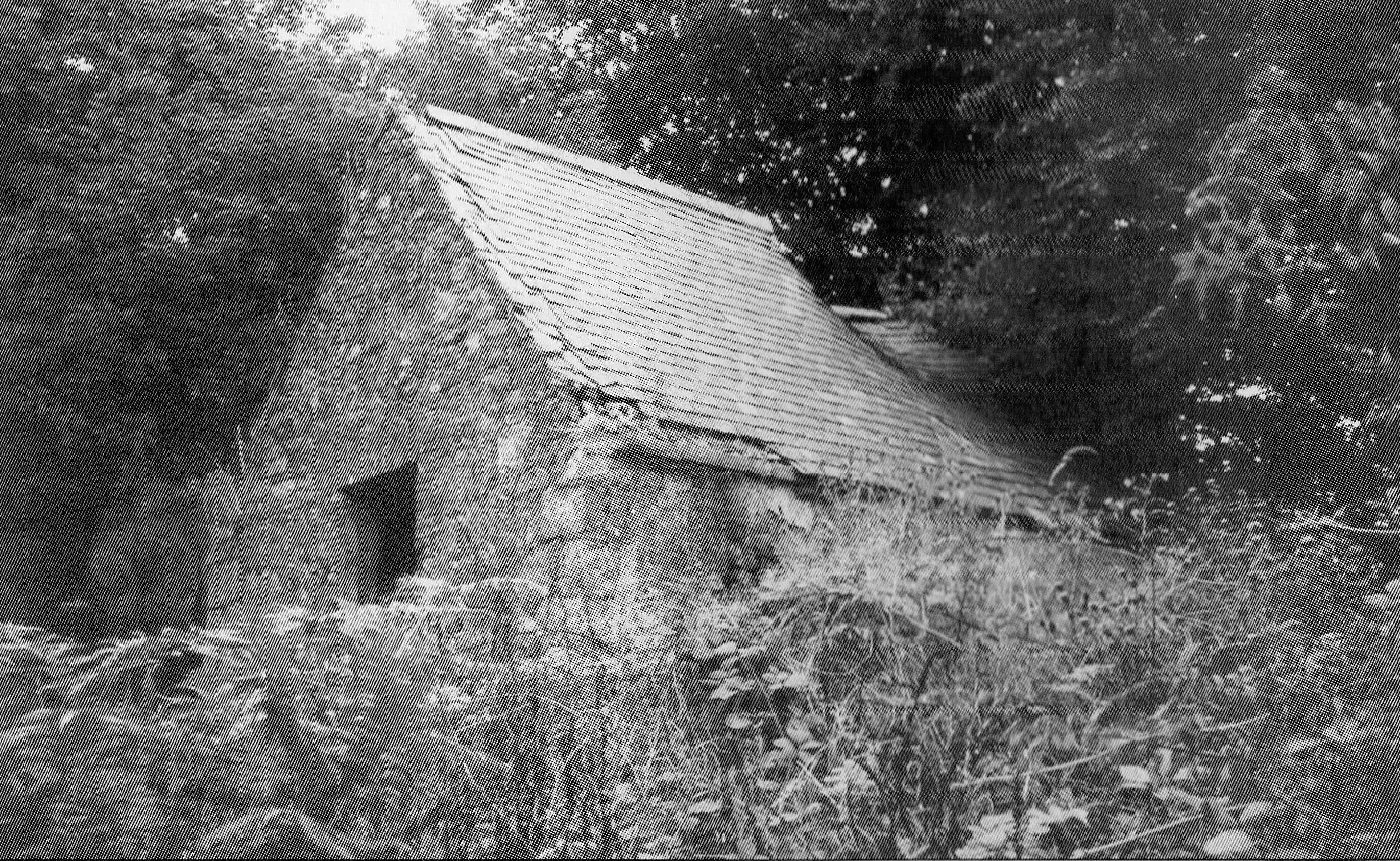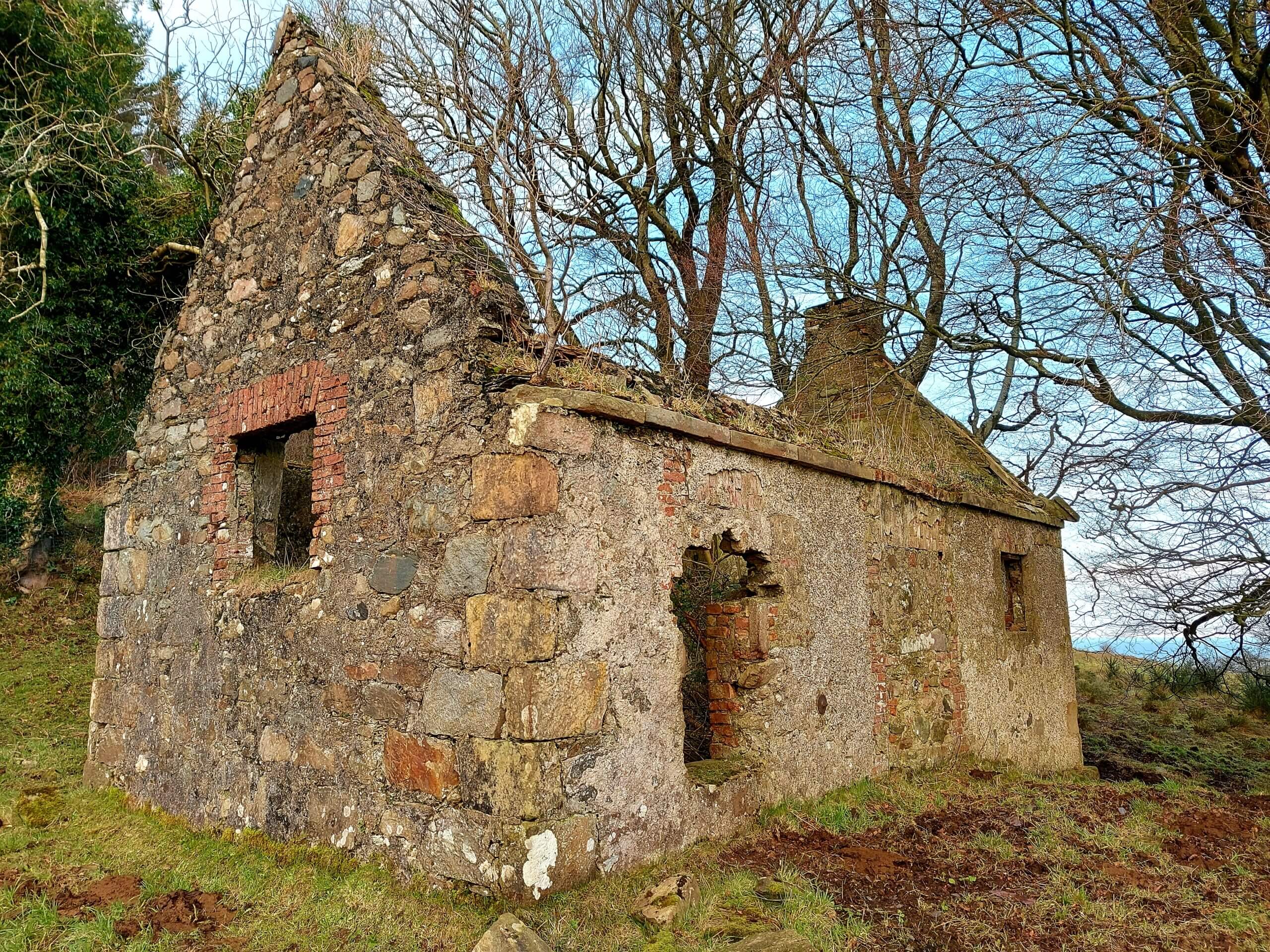 In recent decades when school children finished Primary school, they then attended either Cross & Passion College (CPC) or Star of the Sea Secondary School in Ballycastle. Some travelled further afield to Garron Tower and the like, but when CPC became co-educational in 1963, changed from a Grammar to Comprehensive, as well as later incorporating Star of the Sea in the 1970's, the majority of Glenshesk children then went to CPC.
When CPC was a Grammar School, it attracted children from across N.Ireland and further afield, many of whom boarded there, including surprisingly, some children from the Glenshesk. The School Song, attached, is from this era, and included a piece about Glenshesk.
Separately, Monica Devlin from Glenbank, Glenshesk served as President of the Past Pupils of CPC